Pantry Service
Evans' service goes beyond great tasting coffee and refreshing water. We provide breakroom essentials to make sure your work place is well-stocked with all the products needed to keep customers and employees happy, in the building, and focused on their job.
Your plate is full and there already aren't enough hours to get it all done. How do you and your team get more out of each day? Let us handle everything you need for your breakroom—from racks, coolers and bulk bin displays to rotating, cleaning and stocking your space, we'll customize a pantry service program to fit your needs, freeing you up to tackle everything else on your to-do list.
We provide all your office pantry favorites – from traditional drinks to the latest healthy snacks. We carry thousands of items including cold drinks, snacks, candy, fresh fruit and trail mixes that are available in individual servings or bulk sizes depending on your preferences, population and budget.
Coffee
We source coffee from only the best brands in the industry including Starbucks, Green Mountain Coffee, Laughing Man, Lavazza, Keurig, Flavia, Alterra, Maxwell House, Peet's and Seattle's Best. You can count on us to deliver quality coffee from reputable sources. Don't see your favorite brand listed? Let us know and we can get it for you!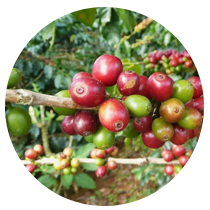 Local Coffee
They are your local neighbors, and they have a true passion for quality coffee, the environment and the community. We're proud to offer our customers gourmet coffee prepared by local roasters that are known for their fair-trade practices and farm-fresh ingredients. We've teamed up with renowned local roasters including Lacas Coffee and Grammercy Park Coffee.
Tea
Savor a hot beverage that perfectly infuses the traditional and the exotic herbs and spices available in the world of tea. This is what you'll find in our assortment of tea brands and flavors. We carry all the popular favorites such as Mighty Leaf, Tetley, Twinings, Bigelow, Celestial Seasonings, Lipton and Tazo.
Water
Bottled, filtered, flavored, carbonated, cold, still or sparkling – choose today's great tasting healthier beverage alternative to keep your staff happy and hydrated. Opt for a pure water beverage conveniently available in a grab and go package. Choose from Poland Spring, Aquafina, Nestle, Dasani, Fiji and more. Add a little color into your hydration routine with sparkling bottled water in a mix of flavors.
Hot Cocoa
Hot chocolate is a delicious treat everyone is sure to enjoy. Always good to have in the cupboard, hot chocolate and hot chocolate mix are available in several tasty flavors and brands. Choose from Swiss Miss Hot Chocolate, Carnation Hot Chocolate or Land O Lakes Hot Chocolate; just don't forget the marshmallows. Available in a variety of packaging options from single-serve to canisters. Simply add hot water and enjoy!
Creamers & Sweeteners
Smooth, delicious coffee creamer and sweetener can only enhance the experience of drinking coffee or tea. For those coffee drinkers who prefer their coffee with the added flavor and rich aroma of coffee creamer, we offer a great selection of Coffee Mate creamers and Land O Lakes Mini Moos to choose from. Sugar, sweeteners, sugar packets, sugar shots, and syrups are also available.
Cold Beverages
Evans can provide everything from Carbonated Sodas, Bottled Waters, Sparkling Waters, Assorted Juices, Sports Drinks, Energy Drinks, Blended Fruit Drinks to Flavored Milks, Iced Coffees and New Age Beverages. We have brands such as Starbucks Coffee Drinks, Glaceau Vitamin Water, Gatorade and Honest Tea.
Snacks & Chips
Popcorn, crackers, cookies, candy, snacks! We carry an extensive selection of snack food products such as pop tarts, cookies, soups, pastries, bagged candy, nuts, gum and mints. We stock a wide variety of chips from all the different manufacturers including Frito-Lay, Herr's, Snyder's and new healthier varieties. We are always open for suggestions.
Cups & Paper Products
Evans has a complete line of paper products for you to choose from. These paper products are perfect for the office coffee station. Items such as paper towels, folding napkins, paper cups and paper plates are available. Plasticware like plastic plates, plastic bowls, plastic forks and plastic knives are in stock as well.
Janitorial Supplies
We offer hundreds of cleaning solutions, including products and tools, that will help keep your place of business both clean and sanitary. We can provide antibacterial solutions, specialty cleaning products, and all of the tools and materials to help keep your office environment free of germs and bacteria. Interested in "green" cleaning products? We offer several chemical free options that are safe for the environment
Healthy Snacks
Nutritious, delicious, and just plain better for you. It doesn't have to be difficult to introduce healthier snacks to your workplace. Because no single program can meet all those needs, we have partnered with several wellness initiatives in the industry to offer the widest array of health options possible. This includes NAMA's Fit Pick® Program (includes USDA schools program) and PepsiCo's Hello Goodness™ Program
Green Options
Our commitment to being a sustainably conscious company is extremely important to us and we offer a complete portfolio of 100% compostable products. Order your eco-friendly products today and know that you're helping conserve and protect the environment.